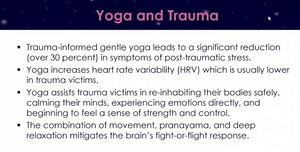 There is a diminishing of one's own sound, a stifling that occurs, when one has experienced trauma. To rediscover your voice is an extraordinary tool to bring you from hurt to healing. We utilize tools to begin to support you finding your voice, to let your truth, held in love, reverberate throughout the world. Moderators: Katie Koestner & Carrie Coppola.
Presenters: Lara Veon & Daniel Sernicola.
Session pose: Simhasana (lion pose).
Come_to_Your_Mat_6_Finding_Your_Voice from Campus Outreach on Vimeo.