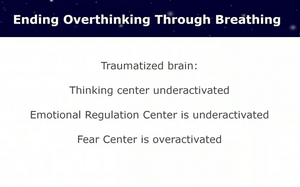 Stopping the ruminating thoughts is essential to our healing. Being mindful and present to recognize our thoughts – the old beliefs, negative self-talk, our doubts, and fears can allow us to direct our mind back to our breath, to a place of truth. We will explore how to utilize the breath to find the space between our thoughts where we can rest in stillness.
Presenters: Katie Koestner & Carrie Coppola. 
Come_to_Your_Mat_1_Ending_Overthinking_Through_Breathing from Campus Outreach on Vimeo.